Horsetail & Rosemary Combination
Buy cheap!

Нет в наличии
100 Capsules (16 day-supply)
Supplement your exisiting beauty regime
Botanicals to provide support for your hair, skin and nails
→
---
Save it on your wall so you don't lose the link to this product:
---
Did You Know?
Beauty supplements are gaining in popularity to support your existing skincare routine. Supplements work from the inside out; targeting the body at a cellular level which then helps promote healthy skin, hair, nails and more!
What are the benefits?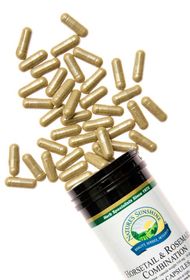 This formula contains Dulse plant, Horsetail herb, Sage leaves and Rosemary leaves. These botanicals provide significant amounts of herbal silicon (27.9mg per 100 grams). As reported by the National Research Council, silicon deficiency leads to structural abnormalities of the long bones and skull or the structural system.
The Dulse plant and Rosemary leaves are both rich in antioxidants which protect the skin by limiting the production of damaging free radicals; whilst rosemary leaves are also rich in anti-inflammatory compounds.
Certain minerals found in the horsetail herb may improve the health of your hair and strengthen your nails. Sage was once awarded the title "Herb of the Year" by the International Herb Association due to it being a powerhouse of phenolic acids, assorted antioxidants, and several volatile oils - all of which paves the way for supple, smooth and firm skin!
Ingredients: Dulse fronds (Rhodymenia palmata), horsetail stem & strobilus (Equisetum arvense), sage leaf (Salvia officinalis), rosemary leaf (Rosmarinus officinalis) capsule shell (gelatin, water).
Recommendation: Take three capsules twice daily with a meal.
Do not exceed the stated recommended daily dosage.
Leave a review Horsetail & Rosemary Combination
Write a comment or ask a question about the product Horsetail & Rosemary Combination