Master Gland
Buy cheap!

Нет в наличии
120 Capsules (30-day supply)
Key System Product formulated for the glandular system
Unique range of vitamins, minerals & specific herbs
→
---
Save to your wall so you don't lose the link to this product:
---
Did You Know?
The glandular and nervous systems work together to regulate all of the body's processes, including growth, metabolism, digestion, elimination, menstruation and sleep. The glandular (endocrine) system communicates using chemical messengers called hormones that stimulate reactions that may last from a few hours to several days. The endocrine system functions best when it has ample stores of minerals, particularly trace minerals.For example, the thyroid gland maintains proper metabolic rates and levels of body fluids when it has ample iodine. Similarly, the pancreas, which controls blood sugar levels, needs chromium. Eating foods rich in trace minerals helps support the body's glandular functions, but unfortunately, many foods that are a mainstay of the modern diet are low in trace minerals.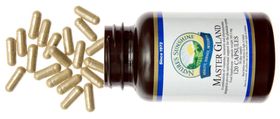 What are the benefits?
Key System Product (KSP) for the glandular system, Master Gland is a blend of antioxidant vitamins, minerals and phytonutrients, with zinc, which contributes to normal metabolism, function of the immune system, and normal cognitive function. Contains a full complement of essential vitamins and minerals combined with specific herbs that are rich in easily absorbed trace minerals, to supply the glands with nutrients. Includes adaptogentic herb Sierian Ginseng (eleuthero root) traditionally used for energy and vitality.
Vitamin A, which contributes to the normal function of the immune system, cell specialisation and normal vision. Vitamin C, which contributes towards a reduction in tiredness and fatigue, the normal functioning of the immune and nervous system, psychological function, and collagen formation for normal function of blood vessels. Vitamin E in an antioxidant that contributes to the protection of cells from oxidative stress, and pantothenic acid, contributes to normal mental performance and energy yielding metabolism. Zinc contributes to normal metabolism of fatty acids and vitamin A, fertility and reproduction, cognitive function, normal vision, and the protection of cells from oxidative stress.
Ingredients: Licorice root (Glycyrrhiza glabra), vitamin C, alfalfa aerial parts (Medicago sativa), asparagus stem (Asparagus officinalis), black walnut hulls (Juglans nigra), parsley leaf (Petroselinum crispum), potassium citrate, thyme leaf (Thymus vulgaris), kelp leaf & stem (Ascophyllum nodosum, Laminaria digitata), zinc gluconate, dandelion root (Taraxacum officinale), eleuthero root (Eleutherococcus senticosus), dong quai root (Angelica sinensis), lemon bioflavonoid extract, schisandra fruit (Schisandra chinensis), marshmallow root (Althaea officinalis), uva ursi leaf (Arctostaphylos uva-ursi), pantothenic acid, soy lecithin, vitamin E, beta-carotene prep., manganese citrate. Capsule shell (gelatin, water).
Allergy advice: contains ingredients derived from soya beans.
Recommendation: Take two capsules with breakfast and two with lunch.
Do not exceed the stated recommended daily dosage.
Vitamin A (from beta-carotene) 180 mcg (RE)       23
Vitamin E                                   19 mg                   58
Vitamin C                                   120 mg                 150
Pantothenic acid                        48 mg                   800
Zinc                                            12 mg                   120
Manganese                                  2 mg                   100
Lecithin                                       50 mg                    ––
Write product review Master Gland
Write a comment or ask a question about a product Master Gland