Silver Shield Gel
Buy cheap!

Нет в наличии
85g Tube (For external use only)
Contains 20ppm of bio available silver and is non-toxic
Potent germ barrier and cleanser
→
---
Save it on your wall so you don't lose the link to this product:
---
Did You Know?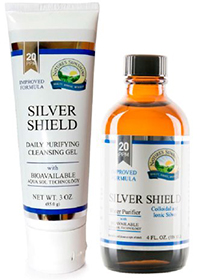 General infection control practices and good hygiene can help to reduce transmission of all viruses, including influenza. Remember to cover your nose and mouth when coughing or sneezing, use a tissue when possible and dispose of it promptly. It is also important to regularly clean hard surfaces, like door handles, as well as washing your hands frequently to reduce the spread of the virus to other people. Acts as an *EPA approved surface cleanser.
What are the benefits?
Cleanse and protect with Silver Shield. Scientific research is demonstrating that this form of silver has remarkable effects on a wide range of surface organisms. Research indicates that Colloidal Silver deactivates the enzymes responsible for the metabolism and multiplication of bacteria, fungi and viruses.
Nature's Sunshine uses the very latest technology and cutting-edge methods that provide you with only the very best quality silver products. Manufactured using a patented process called Bioavailable Aqua Sol Technology (U.S. Patent No. 7,135,195) and made with food-grade ingredients Silver Shield Gel uses only the finest particle size colloids to ensure maximum bio-availability and efficiency, providing 20ppm of silver in a clear moisturising gel. Providing natural hydration and a moisturising effect, Silver Shield Gel contains no alcohol, is non-toxic, safe, and effective. It is also safe for children and has no risk of causing heavy metal contamination.
Ingredients: Aqua, triethanolamine, acrylates/C10-30 alkyl acrylate cross-polymer, colloidal silver.
Recommendation: Apply Silver Shield Gel® to skin as required.
For external use only.
Leave a review Silver Shield Gel
Write a comment or ask a question about the product Silver Shield Gel