Solstic Slim
Buy cheap!

Нет в наличии
30 Sachets, 3.75g each (15 to 30 day supply)
Supports any weight management programme
Ingredients that help to manage cravings & promote satiety
→
---
Save to your wall so you don't lose the link to this product:
---
Did You Know?
This unique drink mix range has been created to meet the growing demand amongst health-conscious consumers for convenience, ease of use, quality ingredients, and proven results - and customer demand has ranked them amongst our top selling products.
Solstic's low calorie servings contain no fat or sugar, are low in carbohydrates and have a low Glycaemic Index, helping to support your body, naturally. These great tasting nutritional drinks contain 20 calories or less per serving and are so easy to use. Simply mix the contents of the sachet with 500ml of water, shake, and enjoy.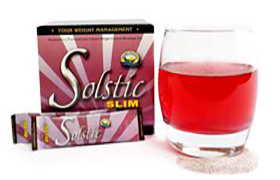 What are the benefits?
Solstic Slim has been specially formulated to support any weight management programme, by helping to manage cravings, and reducing fluctuations in blood sugar that can often occur as a result of unhealthy snacking. For those that need a helping hand, Solstic Slim can help you towards your target weight, with four key ingredients, each chosen for their unique benefits, and formulated in a way that maximises their potency. Made with only natural ingredients, each 3.75g serving contains only 15 calories and 3g of carbohydrates, with no added sugar, gluten, dairy, yeast or fat, with a natural huckleberry flavour. Just add to water and enjoy.
Solstic Slim's special formula includes Green Coffee Bean extract, which contains chlorogenic acid, a well-known ingredient in weight management products. Grape Skin Extract, which contains resveratrol, known for its antioxidant activity. Green Tea extract, which contains epigallocatechin gallate and has been extensively researched in weight management studies, and Yerba Maté which is used in slimming supplements to help promote feelings of fullness.
Ingredients: Citric acid, huckleberry natural flavour, grape skin extract (Vilis vinifera), green coffee bean extract (Coffea canephora - decaffeinated), yerba maté leaf extract (ilex paraguariensis), malic acid, sweetener; sucralose, green tea leaf extract (Camellia sinensis - decaffeinated). Bulking agent; maltodextrin, anti-caking agent; silicon dioxide.
Recommendations: Mix with 500ml of water - drink 1 to 2 servings a day.
Do not exceed the stated recommended daily dosage.
Energy kcal/kJ 

 

15 kcal (63kj) 

45 kcal (1444kj)

Protein 

 

0g 

1g

Carbohydrate 

3g 

91g

of which - sugars 

0g 

2g

Fat 

0g 

0g

of which - saturates

 0g

 0g

Fibre 

 

0g

0g

Salt 

6mg 

148mg
Write product review Solstic Slim
Write a comment or ask a question about a product Solstic Slim