Super Supplemental Vitamins & Minerals
Buy cheap!

Нет в наличии
120 Tablets (60 day supply)
Balanced profile of 23 vitamins and minerals - 100% NRV
Blended in a SynerPro
→
---
Save it on your wall so you don't lose the link to this product:
---
Did you know?
Vitamins and minerals are essential nutrients that are necessary for the proper functioning of your body. They act as building blocks of health and lay the foundation for everything that happens inside our bodies, so it is very important to receive a sufficient amount of vitamins and minerals daily. Vitamin is an organic compound required by the body for certain body processes, and in most cases can not be done by the body itself. Minerals are equally important and have many roles, including maintaining a healthy pH level and the formation of red blood cells.
Vitamins and minerals help to manage thousands of vital chemical chain reactions, with each vitamin dependent on others so that they can work normally. The main minerals include calcium, iron, magnesium, phosphorus, potassium, sodium and sulfur. The average diet and lifestyle will give us an average health status, but improving our nutritional status and taking care of ourselves can lead to optimal health, both now and in the future. That's why more and more people prefer to take Super-supplementary vitamins and minerals to replenish the nutrients they receive from their diet.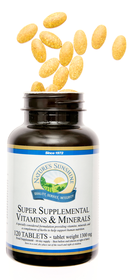 What are the advantages?
Vitamins and minerals are essential nutrients that are necessary for the proper functioning of your body. The body itself can not make vitamins, so it's important to get enough vitamins and minerals in your diet every day. This top sale of the daily formula of nutrition provides an excellent balanced profile of 23 vitamins and minerals mixed with the base of plant extracts to help their absorption.
Super Supplemental provides a balanced, balanced diet that offers 100% of the recommended daily requirements of most vitamins and the full range of minerals needed for good health. Super-supplementary vitamins and minerals can help make any deficiency in your daily diet, as it also supplies the body with micronutrients from superfoods and contains important carotenoid antioxidants lutein and lycopene that support tissues throughout the body. These nutrients contribute to a variety of body processes. Vitamin A for the immune system, iron metabolism and maintenance of normal vision and skin. B vitamins for energy metabolism, as well as reduced fatigue and fatigue. Vitamin C for the immune and nervous systems, the normal formation of collagen and vitamin E to protect cells from oxidative stress. Vitamin D is not always easy to get, especially in the darker winter months, but it is necessary to maintain normal bones, dental and muscle functions, calcium levels in the blood and normal function of the immune system.
The formula also unites a wide range of minerals such as calcium, magnesium, manganese, phosphorus, iron and zinc, which contribute to a wide range of basic processes in the body, including cell division, oxygen transport, blood coagulation, cognitive function, protein synthesis, cell membrane function, electrolyte balance, psychological function and the formation of connective tissue.
Composition: di-calcium phosphate, magnesium oxide, vitamin C, calcium bis-glycinate, potassium citrate, zinc gluconate, pantothenic acid, vitamin E (d-alpha-tocopherol), 1-selenomethionine, black fumarate, niacinamide, choline bitartrate, inositol, pyridoxine hydrochloride, calcium citrate, magnesium bis-glycinate dihydrate, biotin, thiamin, beta-carotene, para-aminobenzoic acid, riboflavin, vitamin A palmetate, copper gluconate, manganese citrate, alfalfa (Medicago sativa), asparagus stems officinalis), broccoli (Brassica oleracea var. Italica), cabbage leaves (Brassica oleracea var. Capitata, extract of bioflavonoid hesperidin, lemon bioflavonoid extract (Citrus limon), rutin, cyanocobalamin, rosea extract (Rosa canina), horsetail and strobilus (Equisetum arvense), vitamin D3 (cholecalciferol), potassium iodide, chromium chloride, folic acid , leaves and stems of fangs (Ascophyllum nodosum, Laminaria digitata). Filler; microcrystalline cellulose, anticaking agent; stearic acid, excipient; sodium carboxymethyl cellulose, anti-caking agents; magnesium stearate, silicon dioxide.
Recommendation: Take one tablet of food twice a day.
Do not exceed the recommended daily dose.
Vitamin A (80% retinyl palmitate, 20% beta-carotene) 1000 μg 125
Vitamin D3 2.7 μg 54
Vitamin E 18.2 mg 152
Vitamin C 125 mg 156
Thiamin 6 mg 545
Riboflavin 4.7 mg 336
Niacin (from niacinamide) 15 mg 94
Vitamin B6 7.2 mg 514
Folacin 85 μg 43
Vitamin B12 25 μg 1000
Biotin 79 μg 158
Pantothenic acid 34 mg 567
Calcium 105 mg 13
Phosphorus 66 mg 9
Magnesium 100 mg 27
Iron 7.5 mg 54
Zinc 7.5 mg 75
Copper 0.5 mg 50
Manganese 0.75 mg 38
Selenium 25 μg 45
Leave a review Super Supplemental Vitamins & Minerals
Write a comment or ask a question about the product Super Supplemental Vitamins & Minerals
---