VariGone
Buy cheap!

Нет в наличии
90 Capsules (Up to 45 day supply)
Unique combination of 5 powerful herbs
With Horse Chestnut, bioflavonoids & rutin
→
---
Save to your wall so you don't lose the link to this product:
---
Did You Know?
The body's circulation system is responsible for sending blood, oxygen, and nutrients throughout the body. When blood flow to a specific part of your body is reduced, you may experience the symptoms of poor circulation, which is most common in extremities, such as legs and arms. Poor circulation isn't a condition in itself. Instead, it results from other health issues. Therefore, it's important to treat the underlying causes, rather than just the symptoms. Several conditions can lead to poor circulation, and most commonly include obesity, diabetes, heart conditions, and arterial issues.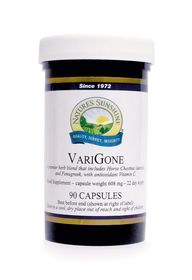 What are the benefits?
A unique combination of five powerful, natural herbs and nutrients, this premier herbal blend features Horse Chestnut (20% aescin) along with Fenugreek, bioflavonoids and antioxidant Vitamin C. Vitamin C is an important antioxidant vitamin that contributes to normal collagen formation which is needed to help maintain the normal function of the body's blood vessels – all part of maintaining a heathy circulatory system. As an antioxidant vitamin C also protects the body's cells from damage caused by oxidative stress, supports the function of the immune and nervous system, and helps to reduce tiredness and fatigue. This Formula also includes lemon bioflavonoids, hesperidin bioflavonoid extracts, and rutin. These well-respected herbs have a long history of use and are well-known ingredients in traditional herbal remedies for the circulatory system. Fenugreek, contains antioxidant Vitamin C, and is also an excellent herbal source of selenium, an antioxidant that helps the body utilise oxygen.
Ingredients: Horse chestnut seed extract (Aesculus hippocastanum) (20% aescin), vitamin C (ascorbic acid), fenugreek seed (Trigonella foenum-graecum), hesperidin bioflavonoid extract, lemon bioflavonoid extract, rutin. Bulking agent; cellulose, anti-caking agent; magnesium stearate. Capsule shell (gelatin, water).
Take one or two capsules twice daily with a meal.
Do not exceed the recommended daily dosage.
Vitamin C                                     194 mg                243%
Horse Chestnut Seed Extract      700 mg                -
Fenugreek                                    180 mg                -
Write product review VariGone
Write a comment or ask a question about a product VariGone