Chinese Herb & Mineral Blend
Buy cheap!

Нет в наличии
946ml Bottle (31-day supply)
Helps to support the body's energy meridians
Nine Chinese herbs including adaptogenic herbs.
→
---
Save to your wall so you don't lose the link to this product:
---
Did You Know? 
Each daily 30ml serving of Chinese Herb & Mineral Blend provides 360mg of potassium.  Potassium is a very important electrolyte mineral required for the proper function of all cells, tissues, and organs in the human body. Potassium contributes to normal functioning of the nervous system, normal muscle function, and the maintenance of normal blood pressure.
What are the benefits?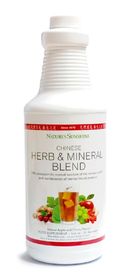 This special blend of tonic herbs and naturally processed trace minerals extracted from the plant vegetation of an ancient seabed has a natural apple and cherry flavour with no added sugar. The formula includes well respected herbs such as Siberian ginseng (Eleutherococcus senticosus), wolfberry fruit extract, licorice root extract and ginkgo leaf extract, along with white grape fruit juice and natural ginger. 
Contains renowned Chinese herbs gynostemma herb, lycii berry, schizandra berry, siberian ginseng root and rhizome, astragalus root, deglycyrrhizinated licorice root, reishi mushroom (ganoderma), ginger rhizome and ginkgo biloba leaf. 
Siberian ginseng is an adaptogen, traditionally used to support the whole body during periods of emotional stress. It helps boosts energy levels and is considered by some to be an overall body supplement. Licorice root is an adaptogen, and has long been used by traditional herbalists as a general supplement for respiratory, liver and glandular support. Licorice contains triterpenoid saponins, flavonoids, isoflavonoids, magnesium, silicon, sodium and other beneficial constituents.
Ginkgo leaf extract is believed to help maintain memory with age and to support healthy cognitive function. It is one of the most popular selling herbs and is also thought to improve circulation.
Ingredients: Purified water, white grape fruit juice concentrate, vegetable glycerin, fulvic acid, potassium chloride, wolfberry fruit extract (Lycium barbarum), sodium benzoate, citric acid, trace minerals, potassium hydroxide, eleuthero root extract (Eleutherococcus senticosus), astragalus root extract (Astragalus membranaceus), gingerrhizome (Zingiberofficinale), gynostemma whole plant extract (Gynostemma pentaphylum), licorice root extract (Glycyrrhiza glabra), reishi mushroom mycelium (Ganoderma lucidum), schisandra fruit extract (Schisandra chinensis), ginkgo leaf extract (Ginkgo biloba) cherry natural flavour, apple natural flavour.
Recommendation: Take one tablespoon (15ml) twice daily, in the morning and in the evening. Mix with water or juice if desired. 
Do not exceed stated recommended daily dosage.
Write product review Chinese Herb & Mineral Blend
Write a comment or ask a question about a product Chinese Herb & Mineral Blend