Cranberry & Buchu Combination
Buy cheap!

Нет в наличии
100 Capsules (Up to 33 day supply)
Synergistic herbal combination
Concentrated powder formulation
→
---
Save to your wall so you don't lose the link to this product:
---
The Urinary System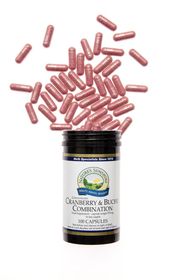 The function of the urinary system is to produce and remove urine and to regulate the amount, alkalinity or acidity, and consistency of body fluids. Kidneys are designed to keep the blood clean, and spend every minute of the day filtering out impurities. However, like any intricate structure, they have limitations. 
What are the benefits?
Nature's Sunshine combines cranberry juice concentrate with Buchu herb concentrate. Separate scientific studies have concluded that cranberry juice contains substances that alter the bacteria population in urine, and a special factor in the juice seems to make harmful bacteria less likely to cling to the surface of the urinary tract. Buchu's powerful penetrating aroma is akin to peppermint. Careful processing reduces the liquid to a concentrated powder before encapsulation.
Ingredients: Cranberry fruit (Vaccinium macrocarpon), capsule shell (gelatin, water), buchu leaf extract (Barosma betulina). Bulking agent; maltodextrin, anti-caking agents; magnesium stearate (vegetable), silicon dioxide.
Recommendation: Take one or two capsules with a meal three times daily.
Do not exceed the stated recommended daily dosage.
Each six capsules contain: Proprietary blend 2610 mg.
Write product review Cranberry & Buchu Combination
Write a comment or ask a question about a product Cranberry & Buchu Combination