Evening Primrose Oil
Buy cheap!

Нет в наличии
90 Softgel Capsules (90 day-supply)
Provides Essential Fatty Acids GLA and linoleic acid
Contains Antioxidant Vitamin E
→
---
Save it on your wall so you don't lose the link to this product:
---
Did You Know?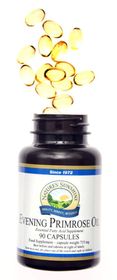 The glandular and nervous systems work together to regulate all of the body's processes, including growth, metabolism, digestion, elimination, menstruation and sleep. 
What are the benefits?
Evening Primrose Oil is an essential fatty acid supplement that contains gamma-linolenic acid (GLA), and linoleic acid.  These essential fatty acids assist the body in producing prostaglandins. Prostaglandins are a group of hormone-like lipid compounds that are derived enzymatically from fatty acids and have important functions in the body. Linoleic acid contributes to the maintenance of normal blood cholesterol levels. Gamma-Linolenic Acid (GLA), assists in producing messengers in the body that perform hundreds of important functions.
Vitamin E is an antioxidant vitamin which contributes to the protection of cells from oxidative stress, and protects DNA, proteins and lipids from oxidative damage. The antioxidant properties of vitamin E in this formula protect the evening primrose oil from oxidative damage. Other beneficial fatty acids in this formula include oleic acid, palmitic acid, and stearic acid.
Ingredients: Evening primrose oil, vitamin E (d-alpha tocopherol), capsule (gelatin, glycerin, water).
Recommendation: Take one capsule with a meal daily.
Do not exceed the stated recommended daily dosage.
Leave a review Evening Primrose Oil
Write a comment or ask a question about the product Evening Primrose Oil