Fenugreek & Fennel Combination
Buy cheap!

Нет в наличии
100 Capsules (25 day supply)
Key System Product (KSP) for the respiratory system
Traditional formula used by nutritionists to nourish the lungs
→
---
Save it on your wall so you don't lose the link to this product:
---
Did You Know?
The respiratory system is responsible for supplying oxygen to the blood and expelling waste gases. Without life-giving oxygen, cells cannot utilise the energy resources that are available to them and so cannot function. Without oxygen, body cells start dying within minutes. If the efficiency of the respiratory system begins to diminish, any energy stored in the body must be released at a slower rate. Since oxygen is so vital to the energy needs of the body, it is essential that we maintain healthy lungs by breathing unpolluted air as much as possible and by supplying the body with good nutrition. 
The respiratory tract, which is especially vulnerable to particles floating in the air due to pollution, has several ways of dealing with these particles. For example, the cough and the sneeze reflexes keep the passageways of the lungs clear of foreign matter. The hairs in the nose trap irritants, contaminants, bacteria, viruses, fungi, vehicle exhaust fumes and other materials. But not all particles are trapped here. If particles are trapped further down in the tract, bronchitis and other breathing difficulties may result.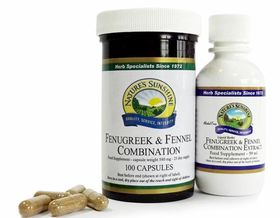 What are the benefits?
A Key System Product (KSP) that provides balanced nutrition for the respiratory system. It is a traditional formula used by nutritionists for the respiratory system and provides specific nutrients that nourish the lungs.
Healthy lung function helps protect the body from seasonal airborne substances, and Nature's Sunshine developed this formula with that in mind, using only the finest quality ingredients formulated by their own team of expert nutritionists.
Fenugreek herb contains mucilaginous compounds, which are gel-like substances known for their ability to soothe tissues. It is also an excellent herbal source of Selenium, an antioxidant that helps the body utilise oxygen. Fenugreek & Fennel is also available in an alcohol free liquid extract which is suitable for vegans, and may be used with children aged 6 years and older.
Ingredients: Capsule shell (gelatin, water), boneset aerial parts (Eupatorium perfoliatum), fennel seed (Foeniculum vulgare), fenugreek seed (Trigonella foenum-graecum), horseradish root (Armoracia rusticana), mullein leaf (Verbascum thapsus).
Recommendation: Take two capsules twice daily. 
Do not exceed the stated recommended daily dosage.
Leave a review Fenugreek & Fennel Combination
Write a comment or ask a question about the product Fenugreek & Fennel Combination