Garlic - High Potency
Buy cheap!

Нет в наличии
60 Tablets (30 to 60 day-supply)
Unique odour control formula
One tablet equals 1200mg of fresh garlic
→
---
Save it on your wall so you don't lose the link to this product:
---
Did you know?
Trade secret processing and careful preparation of each tablets give Garlic high potency Nature's Sunshine specially closed coating for freshness. When they are open, these tablets have a strong smell of garlic, unlike the "odorless" garlic products.
What are the advantages?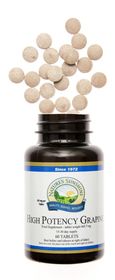 Nature's Sunshine offers you the best and most powerful garlic on the market with a special coating that helps control the smell of garlic. Studies have shown that garlic "odorless", the most popular garlic in Europe, does not retain the power of fresh garlic. One tablet with a high garlic content is 1200 mg fresh garlic.
A comparison of the general potential of allicin with other brands shows that the NSP is leading the industry. One tablet of 400 mg is 1200 mg of fresh garlic, approximately equal to one clove. A unique formula contains chlorophyll, which controls the odor, guaranteeing a long effective shelf life. Since the tablet does not break down for absorption until it reaches the small intestine, you will get the full nutritional value of garlic without undesirable taste.
Garlic with high potency also contains a nutrient concentration of SynerPro®, which includes broccoli powder, turmeric root, rosemary leaf, red beet, tomato fruit, carrot root, cabbage leaf, Chinese cabbage leaf, hesperidin, grapefruit bioflavonoid and orange bioflavonoid.
Ingredients: garlic bulb (Allium sativum), broccoli (Brassica oleracea var. Italica), cabbage leaves (Brassica oleracea var capitata), carrot root (Daucus carota), beet root (Beta vulgaris), rosemary leaf (Rosmarinus officinalis), tomato fruit (Solanum lycopersicum), turmeric root (Curcuma longa), bioflavonoid extract of grapefruit, extract of bioflavonoids of hesperidin, extract of bioflavonoid of orange: fillers; calcium phosphate, microcrystalline cellulose, anti-caking agents; croscarmellose sodium, stearic acid, silicon dioxide, excipients; phthalate hydroxypropylmethylcellulose, chlorophyllin.
Recommendation: Take one tablet with food once or twice a day.
Do not exceed the recommended daily dosage.
One tablet of 400 mg is 1200 mg of fresh garlic, approximately equal to one clove.
Leave a review Garlic - High Potency
Write a comment or ask a question about the product Garlic - High Potency