Ginkgo Biloba Timed Release
Buy cheap!

Нет в наличии
30 Tablets (30 day-supply)
Powerful Anti-Oxidant
Unique 12 hour time release formula
→
---
Save it on your wall so you don't lose the link to this product:
---
Did you know?
Ginkgo biloba is one of the longest living tree species in the world. Ginkgo trees can live as long as a thousand years. The word ginkgo comes from the Chinese yinxing meaning 'silver apricot'.
What are the benefits?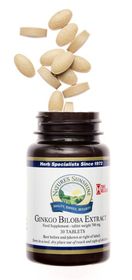 Ginkgo biloba is a powerful antioxidant which protects cells from oxidative stress, and one of the top-selling herbs in Europe. Antioxidants are natural substances that stabilise reactive molecules known as 'Free Radicals'. Also known as 'oxidants', free radicals occur naturally in the body as by-products of natural cell functions, but can also be increased by environmental factors, such as exposure to pollution, smoke, pesticides, chemical cleansers and toxins. 
Stress can also increase our free radical production, and even some of the good things, like exercise and sunshine can produce unwanted oxidants. Excess free radicals can have a damaging effect on the body's cells. A poor immune system and a tendency to show signs of aging faster can be just some of the effects of free radical damage. About 50lbs of Ginkgo leaves are required to produce one pound of Nature's Sunshine extract. The unique 12-hour, time-release formula provides a continued supply of ginkgo throughout the day.
Ingredients: Ginkgo leaf extract (Ginkgo biloba). Bulking agents; maltodextrin, cellulose, anti-caking agents; stearic acid, magnesium stearate, silicon dioxide.
Recommendation: Take one tablet daily, preferably with the morning meal. 
Do not exceed the stated recommended daily dosage.
Each specially processed tablet contains 120mg Ginkgo leaf extract – standardised.
Leave a review Ginkgo Biloba Timed Release
Write a comment or ask a question about the product Ginkgo Biloba Timed Release