Breathe Clear
Breathe Clear is a product designed to promote respiratory health, especially during times of seasonal hazards such as changing seasons or high levels of pollen in the air.
1 jar contains 90 capsules.
→
---
Save it on your wall so you don't lose the link to this product:
---
Breathe Clear proves that "the whole is better than the sum of its parts." The formula, developed many years ago, is still very popular with Nature's Sunshine customers in the United States, where it is known as HistaBlock.
Again, as is the case with almost all of our products, the gifts of nature play a key role here, and above all, the leaves of the dioica nettle (Urtica Dioica) and the fruit of the bitter orange (Citrus x aurantium), which support the proper functioning of the respiratory system. Bitter orange also has a soothing effect on the throat and vocal cords.
The Breathe Clear formula is supplemented with quercetin from Japanese Sophora japonica buds and bromelain from pineapple fruits (Ananas comosus).
All these gifts of nature are combined in the effective formula of Breathe Clear, so you can breathe deeply without fear of seasonal threats.
Why choose Breathe Clear?
We are committed to our planet, which allows us to obtain herbs for the production of our products. Our nettles grow wild in the Albanian mountains, and our supplier, with the help of a specially trained team, collects their valuable leaves, taking care of the biodiversity of the region and the sustainable development of crops.
Compound:

Active Ingredients:

Per daily dose

(4 capsules)

Nettle leaf (Urtica dioica)

360 mg

Quercetin (from the buds of the Sophora japonica tree)

360 mg

Bitter orange fruit (Citrus x aurantium)

280 mg

Bromelain (from pineapple fruit [Ananas comosus])

80 mg
Bulking agent: calcium phosphates, capsule shell: gelatin, nettle leaf powder (Urtica dioica), quercetin (Sophora japonica bud powder), bulking agent: cellulose, bitter orange (Citrus x aurantium) fruit powder, bromelain from pineapple fruit powder (Ananas comosus), anti-caking agents: magnesium salts of fatty acids, silicon dioxide.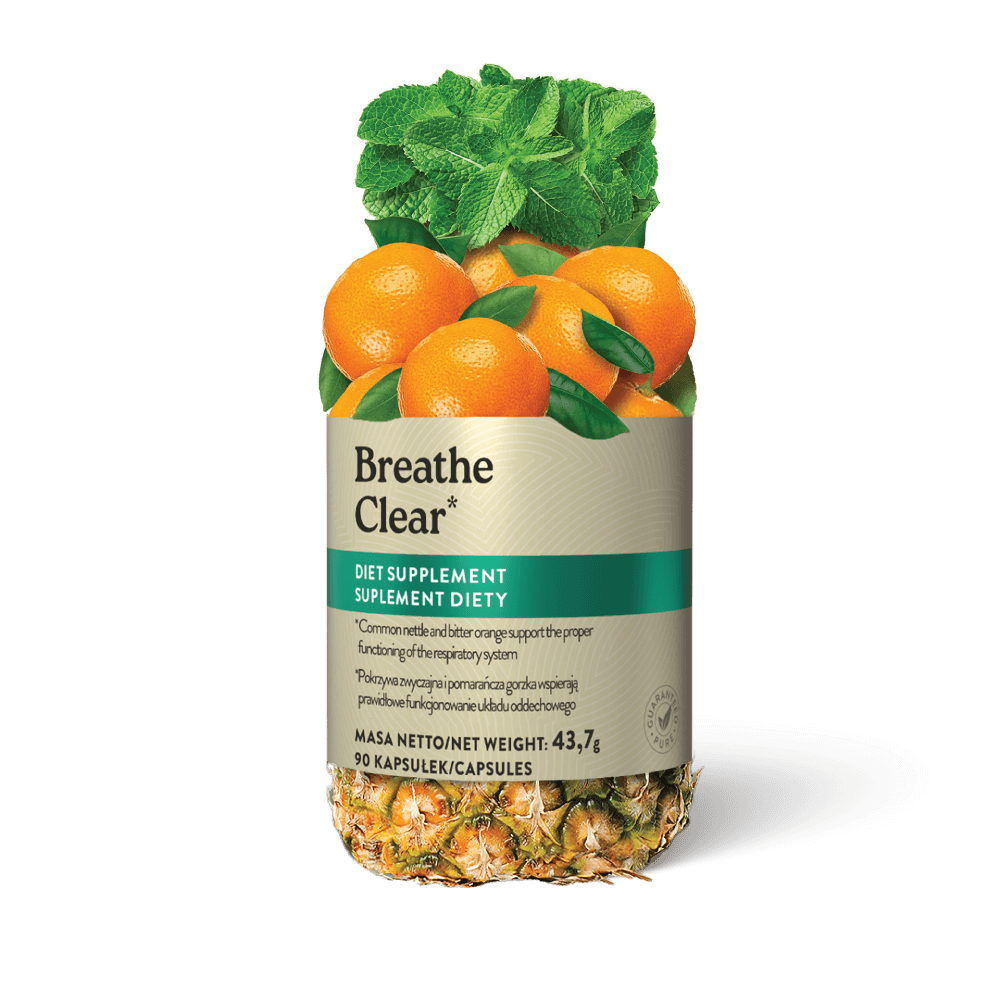 Application:
Consume 2 capsules 2 times a day.
Storage conditions:
Store in a cool and dry place. Keep out of the reach of small children!
Nature's Sunshine encourages a healthy lifestyle . Dietary supplements should not be used as a substitute for a balanced diet. A balanced diet and a healthy lifestyle are the basis for the proper functioning of the body.
Leave a review Breathe Clear
I take Breathe Clear for a cold. Helps with cough
Write a comment or ask a question about the product Breathe Clear
---