Magnesium (90 caps.)
90 Capsules (30-day supply)
Contributes to healthy sleep patterns
Especially important in muscle relaxation and recovery
→
---
Save it on your wall so you don't lose the link to this product:
---
Magnesium
DIETARY SUPPLEMENT
Did You Know?
Magnesium is one of the most common minerals on earth and it's essential for human health. This mineral is used in over 600 cellular reactions throughout your body. In fact, every cell and organ need this mineral to function properly. It contributes to bone health, as well as proper brain, heart, and muscle function.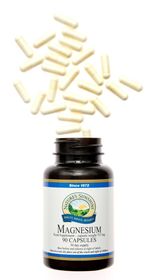 What are the benefits?
Nature's Sunshine's Magnesium provides a synergistic blend of Malic Acid and Magnesium. Malic acid, found naturally in high concentrations in apples and other fruits and vegetables, provides Magnesium, which plays an important role in producing energy for the cells and helping with the absorption of several other vitamins and minerals. Magnesium contributes to normal energy-yielding metabolism, muscle function, protein synthesis, and the maintenance of normal bones. It is required for normal psychological function and contributes to a reduction in tiredness and fatigue. When the body becomes deficient in energy-producing fuel, it breaks down muscle protein to create energy. This process can cause fatigue and other problems Researchers have found that many people with this type of discomfort respond to supplements containing Malic acid and Magnesium, the ingredients in Magnesium.
INGREDIENTS:

Magnesium malate, maltodextrin, anti-caking agents (magnesium stearate, silicon dioxide); capsule shell (gelatin, water). 
---
KEY INGREDIENTS:

Content in the recommended serving (3 caps):
Magnesium......................... 240 mg....64% RDI*
Malic acid..........................................1050 mg **
*RDI – Reference Daily Intake
**Reference Daily Intake not specified
---
RECOMMENDED USE:

1 capsule 3 times a day during a meal.
Do not exceed the recommended daily dose.
---
STORAGE CONDITIONS:
Store in a dry and cool place, out of reach of small children. After opening, store in the fridge.
Leave a review Magnesium (90 caps.)
Write a comment or ask a question about the product Magnesium (90 caps.)
---