Boost with L-Arginine
Buy cheap!

Нет в наличии
100 Capsules (16 day supply)
Unique Adult Formula, gives men & women a "BOOST"
Stimulating herbs to support vitality, circulation and libido
→
---
Save to your wall so you don't lose the link to this product:
---
What is it?
This unique adult formula is especially designed to support vitality levels. It contains carefully selected stimulating herbs and nutrients including l-arginine, maca extract, ginseng root, oat straw concentrate, red raspberry leaves, damiana leaves, licorice root, and sarsaparilla root. 
Damiana is a wild shrub with aromatic leaves and Siberian Ginseng is an adaptogen, traditionally used to support the whole body during periods of emotional stress. L-Arginine is an amino acid that supports optimal blood flow and circulation.
What are the benefits?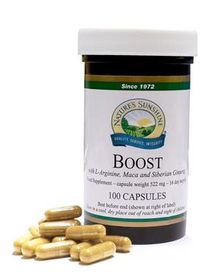 This unique adult formula is specially designed to support vitality levels, and circulation, with carefully selected stimulating herbs and nutrients.Damiana is commonly recommended by herbalists for its traditional use in supporting energy production, and nervous system health and function. This longstanding formula is suitable for both males and females, and is an ideal supplement to give a real 'BOOST'.
L-arginine, maca root extract (Lepidium meyenii), eleuthero root (Eleutherococcus senticosus), oat straw extract (Avena sativa), raspberry leaf (Rubus idaeus), damiana leaf (Turnera diffusa), licorice root (Glycyrrhiza glabra), sarsaparilla root (Smilax officinalis). Capsule shell (gelatin, water). Bulking agent; cellulose, anti-caking agent; magnesium stearate.
Allergy advice: Includes cereals containing gluten. See ingredients in bold.
Not suitable for use during pregnancy or nursing.
Take two capsules with a meal three times daily.
Do not exceed the stated recommended daily dosage.
Each six capsules contain:
L-arginine                               450mg
Damiana                                 240mg
Maca                                      450mg
Siberian Ginseng (eleuthero) 300mg
Red Raspberry                       300mg
Licorice Root                          180mg
Write product review Boost with L-Arginine
Write a comment or ask a question about a product Boost with L-Arginine