Papaya Mint Chewable
Buy cheap!

In Stock
70 Tablets (11 day supply)
Formulated for the digestive system
Can be used as a breathe freshener
→
---
Save to your wall so you don't lose the link to this product:
---
Did You Know?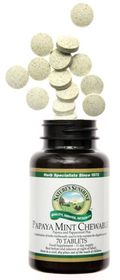 Papayas grow in tropical climates and are also more commonly known as pawpaws. Their sweet taste, vibrant colour, and powerful digestive enzymes make them a popular fruit. Peppermint is a hybrid mint, a cross between water mint and spearmint. It is an indigenous plant from Europe and the Middle East, although it is now widespread and cultivated worldwide.
What are the benefits?
Papain is a powerful digestive enzyme commonly found and extracted from the papaya fruit (Carica papaya). This enzyme plays a key role in digestive processes involving breaking down tough meat protein fibres. Papain can play a significant role in the breakdown of toxins and is a powerful digestive aid and antioxidant. 
Peppermint has a variety of uses in herbal tradition, and its use goes back thousands of years. The leaves contain aromatic compounds that nourish the digestive system. It has a strong minty aroma and has cooling and stimulating properties. These tablets contain papaya fruit, peppermint leaf, fructose, and sorbitol. Nutritionally formulated for the digestive system but can also be used as a breath freshening mint.
Ingredients: Sorbitol, papaya fruit concentrate (Carica papaya), fructose, peppermint leaf (Mentha x piperita), peppermint aerial parts oil (Mentha x piperita). Anti-caking agents; stearic acid, silicon dioxide.
Recommendation: Chew two tablets 30 minutes before meals three times daily or use between meals as a breath freshener.
Do not exceed the stated recommended daily dosage.
Each six tablets contain: Proprietary blend 7065.0 mg.
Write product review Papaya Mint Chewable
Write a comment or ask a question about a product Papaya Mint Chewable