Silver Shield (118 ml)
118ml (Approximately 24 servings)
Contains 20ppm of bio available silver and is non-toxic
Can be used as a water purifier
→
---
Save it on your wall so you don't lose the link to this product:
---
Did You Know?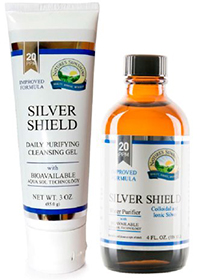 General infection control practices and good hygiene can help to reduce transmission of all viruses, including influenza. Remember to cover your nose and mouth when coughing or sneezing, use a tissue when possible and dispose of it promptly. It is also important to regularly clean hard surfaces, like door handles, as well as washing your hands frequently to reduce the spread of the virus to other people. Acts as an *EPA approved surface cleanser.
What are the benefits?
Cleanse and protect with Silver Shield. Scientific research is demonstrating that this form of silver has remarkable effects on a wide range of surface organisms. Research indicates that Colloidal Silver deactivates the enzymes responsible for the metabolism and multiplication of bacteria, fungi and viruses.
Nature's Sunshine's Silver Shield™ with Aqua Sol technology, is a potent germ barrier and surface cleanser. When used as a water purifier, its fine particle size colloids ensure maximum efficiency in a safe and effective product that is completely non-toxic. Just one teaspoon (5ml) provides a full 100mcg or 20 parts per million (ppm) of pure silver, without heavy metal contamination. Silver Shield™ is tasteless and odourless.
Ingredients: Amount Per 5ml serving: Deionised water, Silver (colloidal and ionic) 100 mcg.
Measuring Facts: 1 teaspoon (5ml)
Recommended Maximum Daily Use: three teaspoons. Each teaspoon provides 100mcg (20ppm) of pure silver.
Note: Do not mix with salt or salty liquids.
Do not consume undiluted.
Not intended for complete sterilisation of contaminated water.
Not intended for long term use.
Leave a review Silver Shield (118 ml)
Write a comment or ask a question about the product Silver Shield (118 ml)