Fat Grabbers (120 caps.)
120 Capsules (10 day-supply)
Unique formula traps fat molecules
Use in conjunction with a well balanced diet
→
---
Save it on your wall so you don't lose the link to this product:
---
FAT GRABBERS
DIETARY SUPPLEMENTS
What is it?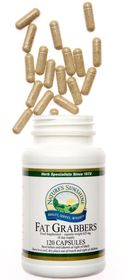 An ideal product for anyone wanting to absorb less fat from their everyday diet, Fat Grabbers is a unique formula of wholesome nutritional ingredients, helping you to create an effective weight management programme.
What are the benefits?
Fat Grabbers™ combines the high-quality fibre found in Guar Gum and Psyllium Hulls with Chickweed and Lecithin for a unique formula that traps fat molecules. Extensive research on Guar Gum and Psyllium Hulls indicates their effectiveness in minimising the absorption of fat. Lecithin is a nutrient that works to break down fat, making it easier for the fibres to trap it. Chickweed contains saponins that also act as fat emulsifiers.
No stimulants, no questionable ingredients - just wholesome nutritional substances that won't disrupt normal body processes. All elements of Fat Grabbers provide nutrients to help absorb less dietary fat, and they all enjoy a long history of safe use. Using Fat Grabbers in conjunction with a healthy, well balanced daily diet plan can help you to create an effective overall weight-management programme. 
INGREDIENTS:
Psyllium; guar gum; capsule shell: gelatin; chickweed leaf extract; lecithin, carrier: silicon dioxide
---
KEY INGREDIENTS:
Content in the recommended serving (12 caps):
Guar gum.................................................... 2436 mg*
Psyllium....................................................... 2436 mg*
Chickweed leaf extract........................ 1,120.80 mg*
*Reference Daily Intake not specified.
---
RECOMMENDED USE:
4 capsules 3 times a day with a glass of water during a meal.
Do not exceed the recommended daily dose.
---
STORAGE CONDITIONS:
Store in a dry and cool place, out of reach of small children.
Leave a review Fat Grabbers (120 caps.)
Write a comment or ask a question about the product Fat Grabbers (120 caps.)
---