Solstic Energy from Nature (30 sachets)
30 Sachets, 3.75g each (15 to 30 day supply)
Great tasting energy drink to consume on the go
Only 15 calories per serving
→
---
Save it on your wall so you don't lose the link to this product:
---
SOLSTIC ENERGY FROM NATURE
DIETARY SUPPLEMENTS
Did You Know?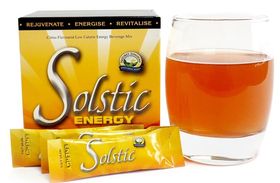 This unique drink mix range has been created to meet the growing demand amongst health-conscious consumers for convenience, ease of use, quality ingredients, and proven results - and customer demand has ranked them amongst our top selling products.
Solstic's low calorie servings contain no fat or sugar, are low in carbohydrates and have a low Glycaemic Index, helping to support your body, naturally. These great tasting nutritional drinks contain 20 calories or less per serving and are so easy to use. Simply mix the contents of the sachet with 500ml of water, shake, and enjoy.
What are the benefits?
Solstic's blend of natural, energy releasing ingredients can help to provide added stamina, without added risk. So instead of reaching for a cup of coffee, a fizzy drink, or a sugar loaded energy product, why not opt for the natural alternative, with Solstic Energy?
Solstic's unique formula includes Yerba Maté, and Guarana Seed - a natural source of caffeine that releases more slowly than processed caffeine, along with Green tea extracts. The B vitamins in Solstic Energy provide an array of health benefits that contribute to a reduction in tiredness and fatigue, normal energy yielding metabolism, and normal function of the immune system, providing energy, endurance, and stamina. Your body cannot store water-soluble B vitamins, so they need to be replenished throughout the day to maintain energy levels.
Solstic Energy has a great natural citrus flavour and has been carefully formulated to support the body's own energy-producing systems to provide a sustained release of energy whenever and wherever you need it. Each serving has only 15 calories, 3g of Carbohydrates, and is free from fat, dairy, gluten, and yeast.
INGREDIENTS:
Thickener: maltodextrin; acidity regulator: citric acid; guarana seed extract; acidity regulator: malic acid; sweetener: sucralose; anti-caking agent: silicon dioxide; red grape skin extract; green tea leaf extract; niacin; yerba mate leaf extract; pantothenic acid; riboflavin; pyridoxine; thiamine
---
KEY INGREDIENTS:
Content in the recommended serving (3.75):
Guarana seed extract........................ 273 mg**
Green tea leaf extract........................ 50 mg**
Red grape skin extract................................................................ 50 mg**
Niacin (vitamin B3)....... 16 mg / 100% RDI*
Yerba mate leaf extract............................ 10 mg*
Pantothenic acid (vitamin B5).......................... 5 mg / 83.3% RDI*
Riboflavin (vitamin B6)..................... 1.3 mg / 92.9% RDI*
Pyridoxine (vitamin B6)..................... 1.3 mg / 92.9% RDI*
Thiamine (vitamin B1).................. 1.2 mg / 109.1% RDI*
*RDI – Reference Daily Intake
**Reference Daily Intake not specified
---
RECOMMENDED USE:
Pour the contents of the sachet into 0.5 l of water. Stir until the powder is completely dissolved. Drink once a day.
Do not exceed the recommended daily dose.
---
STORAGE CONDITIONS:
Store in a dry and cool place, out of reach of small children. After opening, store in the fridge.
Leave a review Solstic Energy from Nature (30 sachets)
Write a comment or ask a question about the product Solstic Energy from Nature (30 sachets)
---